STACEY CHILLEMI of Colts Neck Knows How Defeating Epilepsy Can Seem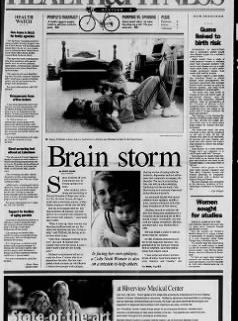 By WYATT OLSON/HEALTH WRITER OF THE ASBURY PARK PRESS
After studying advertising and marketing at Richard Stockton College near Atlantic City, the then 23-year-old began work with a television station in Manhattan, hoping to break into the field.
But the stress aggravated her lifelong condition of epilepsy, she said, and on two occasions she collapsed on city streets with seizures – once amid busy traffic.
"When I woke up, there was one cop directing traffic around me and the other was kneeling over me, trying to help," said Chillemi, 28, during an interview at her home.
"After that, I stopped working in the city," she said. "I realized that I couldn't deal with the stress, I guess. I didn't want to put my life in jeopardy."
Chillemi's experiences led her to study the lives of others who have shared her disorder. She has completed a book manuscript with dozens of letters from people with epilepsy sharing stories of coping with the isolation, depression, and low self-esteem that commonly accompany the disorder.
The key to overcoming that, she said, is acknowledging limitations on the one hand, then discovering new avenues of personal and professional growth.
An estimated 125,000 New Jersey residents have epilepsy, said Eric Joice, executive director of the Epilepsy Foundation of New Jersey.
Chillemi moved on with her life after her Manhattan experience to a computer programming job in Monmouth County. Eventually, she married her college sweetheart, Michael, and they had a son, Michael III in 1998.  She also began a quest to come to terms with her epilepsy.
In 1995, Chillemi submitted a letter to the magazine Epilepsy USA, published by the Epilepsy Foundation of America, soliciting stories about how others coped.
"I was surprised when I got hundreds of letters back from people all over America and Canada," she said. "A lot brought tears to my eyes.
"That's when my life really took a turnaround because I realized there are so many individuals out there feeling the way I did. … I realized that I'm not the only one who feels alone, rejected, limited, and angry at times."
One man wrote that he had a seizure and fell beneath a bus at its stop. The driver didn't notice the man and drove away, catching the man's jacket and dragging him down the street.
A 25-year-old mother of two wrote about the first time her toddler son had a seizure. She noticed that the boy's eyes had rolled back in his head, and when she picked him up he was limp and not breathing – typical symptoms of a seizure but terrifying for the uninitiated. The mother eventually got the boy's seizures under control through a special diet.
Other letter writers said they had 60 to 120 small seizures a day some had experienced mild brain damage as a result because of the continual oxygen deprivation.
Feeling different
Epilepsy actually is not a disease, but a term describing recurring seizures. They can be caused by many different neurological disorders brought on by trauma, disease, or genetic defects. During a seizure, part or all of the brain is consumed by abnormal electrical discharges, like a sudden electrical storm. About 2.3 million Americans have been diagnosed with epilepsy, according to the Epilepsy Foundation.
In about half the cases of epilepsy, the cause of seizures cannot be identified, said Dr. David Mandelbaum, director of the division of child neurology at UMDNJ-Robert Wood Johnson Medical School. He estimates that genetic defects are responsible for a sizable portion of these cases.
Researchers are working to identify them. The task is huge, given that about half of all human genes are involved to some degree with brain development.
Chillemi, who grew up on Long Island, was 5 years old when she contracted encephalitis, a viral infection that caused her brain to swell. Though she overcame the virus, the infection left scar tissue in her brain that manifested itself in seizures.
She said her mother heard gurgling noises from Chillemi's room and found her in the midst of a major seizure. The frequency of seizures increased when she reached puberty.
"As a child, I was restrained from doing a lot of things," she said. "I didn't want to be different from anybody else, and I didn't see why I had to be different.
"When I was a child, I wouldn't be allowed to play certain things in the gym, like basketball or any contact sport with a ball where you could get hurt. I was very angry, and as I got older I started feeling ashamed that I had epilepsy."
When she reached high school, Chillemi said she was determined to keep her epilepsy a secret. The seizures she had then were often less intense, leaving her dazed and looking as though she were having a daydream.
During more serious seizures, her eyes would roll back, her teeth chattered and she would lose consciousness briefly. When she revived, she was confused and would remain fatigued through part of the day.
"At times, I felt alone," she said. "After seizures, I would cry. It's something you have no control over and that makes you very angry. Your body tells you when you're going to have a seizure and you can't do anything about it."
Chillemi said her seizures begin with a tingle in the foot, then a feeling of electrical power moving up her body, which is called an aura. An aura is the earliest stage of brain irritation from the seizure's electrical discharge. Some people feel a change in body temperature or anxiety. For others, the aura might be a musical sound, unfamiliar taste, or a strong odor.
Many people with epilepsy control their seizures fully or partially with drugs. Two years ago, Chillemi said she discovered an anticonvulsant medication that controls her seizures. Now, she has them only during sleep, although they are accompanied by a recurring dream of suffocation.
Questions about state law
Chillemi said she is content with her life as a stay-at-home mom and fledgling book author. She is negotiating with several publishers who have expressed interest in the book, whose working title is "Epilepsy: You're Not Alone."
Like most people with epilepsy, she does not drive – a restriction that adds to a sense of isolation for her and others.
"In a state like New Jersey, if you can't drive, you've got a big problem," said Joice of the Epilepsy Foundation.  Joice said New Jerseyans with epilepsy is hampered by an "onerous" state driving law, Driving restrictions are one of the reasons that national studies have found people with epilepsy are more likely to be unemployed or underemployed than the general population, he said.
A New Jersey statute dating to the 1920s requires doctors to report patients who have seizures to the Department of Motor Vehicles. A review board then decides whether a driver's license should be suspended, Joice said. If it's suspended, the person must be free of seizures for 12 months to qualify for reinstatement, a process that can take months, he said.
New Jersey is one of six states that require mandatory reporting by doctors, said Joice, who calls the law "regressive." He said that mandatory reporting chills the relationship between doctor and patient. To skirt that law, many patients seek care in Pennsylvania or New York, where reporting is not required, Joice said.
The Epilepsy Foundation of America advocates driving laws similar to the approach taken by Wisconsin, which works on a case-by-case basis. Wisconsin licenses people who have been seizure-free for three months provided a doctor has submitted a statement in regard to the condition. Additional reports must be filed every six months for people who have been seizure-free for less than two years. Maryland has a similar system.
John Dourgarian, a spokesman for the New Jersey Department of Transportation, said the department consults with an epilepsy self-help group associated with the Robert Wood Johnson Hospital in New Brunswick.
"I think we try to be as sensitive as we can to this matter," he said. "We don't want to have anyone who's subject to a seizure driving a vehicle. At the same time, if a person has, through medication or in some way gotten past the seizure problem, then they can be authorized to drive again. That's something we work on with their doctor."
Joice said that statistics in Wisconsin and Maryland show no increase in accidents due to drivers' seizures since changes were implemented in the early 1990s. He advocates that New Jersey follow suit.
"We would be the last organization that would want to put people at risk," Joice said. He expects legislation will be introduced in Trenton this year to alter the existing driving provisions.
Dourgarian, however, said he was not aware of any proposed legislation.
https://staceychillemi.com/wp-content/uploads/2017/10/newspaper-article-colts-neck.jpg
400
238
admin
http://staceychillemi.com/wp-content/uploads/2017/06/stacey_logo-300x108.png
admin
2017-09-10 21:29:34
2022-04-03 18:14:25
STACEY CHILLEMI of Colts Neck Knows How Defeating Epilepsy Can Seem