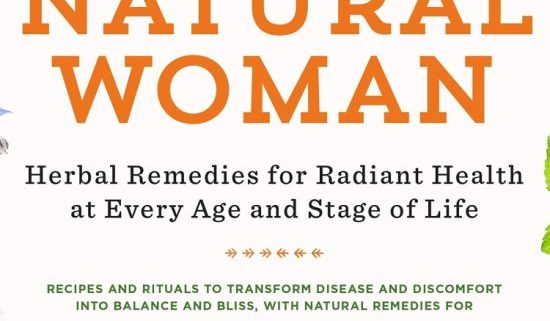 Dr. Leslie Korn's book Natural Woman: Herbal Remedies for Radiant Health at Every Age and Stage of Life is an empowering, informative, and motivational read. Dr. Leslie Korn's book, " Natural Woman," provides readers with insights to understand how to approach medical issues from a natural standpoint.
I was captured by her stunning beginning in the acknowledgments as she opens up about her amazing life as it began in Boston, Mass. and how she journeyed to the jungle of Mexico where she spent years of learning about herbal medicines in a little village in rural Mexico that became her home for over forty years.
Natural Woman plays a vital role to help people learn how to use plant medicines to get back to good health or help them bring balance and nourishment to their daily lives.
Most individuals do not realize that life could easily be saved with simple, plants that can be found or grown in your back yard.  Knowing how to use herbal medicine and integrate them into your life can help protect a person's mental health, physical health, quality of life, and even restore a person's health after acute and chronic illness.
Packed with such informative information on how to prevent, treat, and overcome hundreds of common conditions that a person could easily encounter.
Dr. Korn shares special instructions on how to use plant medicine, focusing on women's health including personal stories on how herbs have played a significant role in her own life.
Dr. Leslie Korn's book Natural Woman: Herbal Remedies for Radiant Health at Every Age and Stage of Life begins by explaining how herbs heal and go on to explain how to prepare herbal medicines including instructions and recipes that are well organized, well-written, and easy to do in the comforts of your own home.
The author enlightens her readers by giving them a clear, well-detailed, simple reference book to use when a medical issue occurs or even if you are looking for an effective detox to balance your body and cleanse your body's impurities.
The author teaches the reader what all these herbals can do, how to grow and use them, and recipes to help you incorporate them into your daily lives.
The book is not just to keep us alive when traumatic issues occur or if chronic conditions encounter our lives, but it is a powerful resource to educate the reader and it can be used as a guide to help keep women in the best possible condition mentally, physically and spiritually.
For some medical issues, medicine is necessary, but many conditions can be treated with plant medicines created from nature itself.
In Natural Woman, Dr. Leslie gives the reader an understanding that many medical issues can be treated by regular individuals who do not hold a medical background.  She provides excellent guidance for medical care in her astonishing book, In Natural Woman: Herbal Remedies for Radiant Health at Every Age and Stage of Life.
Natural Woman is packed with magnificent advice, tools, techniques, and recipes, which teach readers how to handle virtually any medical issue giving them the ability to improve their health and overall life.
Dr. Korn provides brilliant insight on how to create your own plant herbal survival kit to keep in your car, backpack, home or to bring with you on vacation.
A Passion for Healing
Throughout the book, Dr. Korn provides a vast array of well-researched evidence that helps readers acknowledge the vital importance of taking the initiative and taking responsibility when a medical issue occurs or to improve yourself by using herbals that can balance you and give you the ability to sustain optimal health.
This book covers almost every medical issue under the sun.  Dr. Korn teaches you in her book how to heal yourself, and nourish the mind, body, and spirit using advice, information, recipes, and techniques that are easy to incorporate into your life and very self-rewarding.
Dr. Korn's shows you how to improve your life and others as you read this astonishing life-changing book.
I highly recommend this book to everyone.  Dr. Leslie Korn's book is excitingly packed with outstanding information and I find Natural Woman: Herbal Remedies for Radiant Health at Every Age and Stage of Life a rewarding, motivating, inspiring, and enjoyable read.
Website
Also available as an Ebook on Amazon; ISBN: 978-1-61180-671-7, $23.99 303 pages
Facebook: https://www.facebook.com/drlesliekorn1
Twitter: https://twitter.com/drlesliekorn
Instagram: https://www.instagram.com/dr.lesliekorn/
Pinterest: https://www.pinterest.com.mx/drlesliekorn/
https://staceychillemi.com/wp-content/uploads/2022/02/NATURAL-WOMAN-Herbal-Remedies-for-Radiant-Health-at-Every-Age-and-Stage-of-Life-550x550-1.jpg
550
550
admin
http://staceychillemi.com/wp-content/uploads/2017/06/stacey_logo-300x108.png
admin
2022-02-12 15:05:50
2022-02-12 15:05:50
Book Review: Natural Woman: Herbal Remedies for Radiant Health at Every Age and Stage of Life