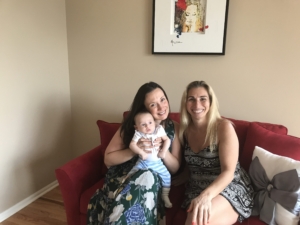 Holistic Housewives Will Feature Exclusively Live Groundbreaking Shows, and Must-See Interviews
For this Series Kick-off in December, The Holistic Housewives will launch with a special exclusive introduction of the show and an hour you will never forget.  Lauren Laurino and Stacey Chillemi will discuss on "Episode 1- who are we / spouses/children / our why / how we got together.
Our goal is to produce content on how to create and maintain a healthy home aka "sustainable household."
This show will highlight trending topic and take on the national news stories and issues of the summer in the first week of programming. "We are thrilled to bring this show to millions of viewers worldwide.  A show that focuses on how to create a sustainable ("green") household that will promote heath, healing, well-being & longevity, as well as introduce new tools, techniques, and tips to improve your family's well-being," said Stacey Chillemi and Lauren Laurino.
The holistic housewives also includes themes that will influence segments and guests throughout the season tackling topics such as, homogenous hormones – what screws with our hormones and how to be aware and balance, food grade beauty, chaos gardening food as medicine, how to detox the toxic,climate control and your home, water,green living in the suburbs, sleeplessness, anxiety, weight loss, family problems and solutions, and fitness. viewers will be encouraged to engage in the conversation and share their lives with us throughout the season using the hashtag #holistichousewife.
ABOUT THE HOLISTIC HOUSEWIVES SHOW
Currently in its launching mode, the "Holistic Housewives series" is hosted by Lauren Laurino and Stacey Chillemi, accredited health experts, and best-selling authors. "The Holistic Housewives" is an informative hour that offers audiences the opportunity to learn about a wide range of health and wellness topics pertaining to healthy living. Tackling the balance of mind, body and spirit, Lauren Laurino and Stacey Chillemi will discuss a variety of topics and provide expert advice on how viewers both female and male can live a healthy life and provide optimum health, healing, and well-being of their families.
Stacey Chillemi is a popular and recognizable health and lifestyle reporter and expert, columnist and health host. Author of The Complete Guide to Natural Healing: A Natural Approach to Healing the Body and Maintaining Optimal Health Using Herbal Supplements, Vitamins, Minerals, Fruits, Vegetables and Alternative Medicine and Natural Remedies for Common Conditions: How to Prevent, Heal and Maintain Optimum Health Using Alternative Medicine, Herbals, Vitamins, and Food, along with 20 other published books, Stacey is the founder of The Complete Herbal Guide (thecompleteherbleguide.com), which currently has over 300,000 monthly visitors. Stacey has been a guest on numerous lifestyle and health-related TV and radio programs, and is a recognized health and natural remedies expert, with over 20 years in practice as a Health Coach. Stacey has been a guest on the Dr. Oz Show, local news, and numerous radio shows.  To learn more about Stacey go to thecompleteherbalguide.com
Laurén Laurino lovingly known as "Dr. Ren, America's Holistic Sweetheart", is a board certified Naturopath thru the American Naturopathic Medical Association, a multiple bestselling Amazon author, and award-winning Holistic Health Advocate. She is the host of Think Healthy with Dr. Ren, an IMDb listed Holistic Lifestyle show that has been airing on public access television since 2014 and she has multiple Dr. Oz Show appearances and even an invitation to the White House on her Holistic resume. As the CEO of Dr. Ren Recommends, a community owned Holistic Lifestyle Platform, her mission is to educate and empower people to live a more balanced life. To learn more about Lauren go to laurenlaurino.com
TO GET THE LATEST UPDATES ABOUT THE SHOW HOLISTIC HOUSEWIVES: SUBSCRIBE BELOW